There's nothing quite like a great camping trip right?
Escaping the mayhem for the calm quiet of nature, waking up to a beautiful sunrise and watching the stars at night. Filling your days with hiking trails, wild swimming or catching up on some reading. For the travel lover or your inner nomad – it's total bliss!
But what about camping with your cat? Can your feline friend come with you on your outward-bound adventures?
If you've ever wondered how to take a cat camping, we've got you covered. With this full guide to camping with cats, we'll run you through how to prepare your kitty for their first trip. Plus we cover how to keep them super safe and happy once you make it to your picture-perfect site.
We'll be looking at:
How to prepare a cat for camping trips
What to expect and how to help your fur baby settle in
The essential cat camping supplies you'll need
Top tips & hacks for cat camping success
Let's dive in with what to think about, when planning your first camping trip with your cat.
Can My Cat Come Camping With Me?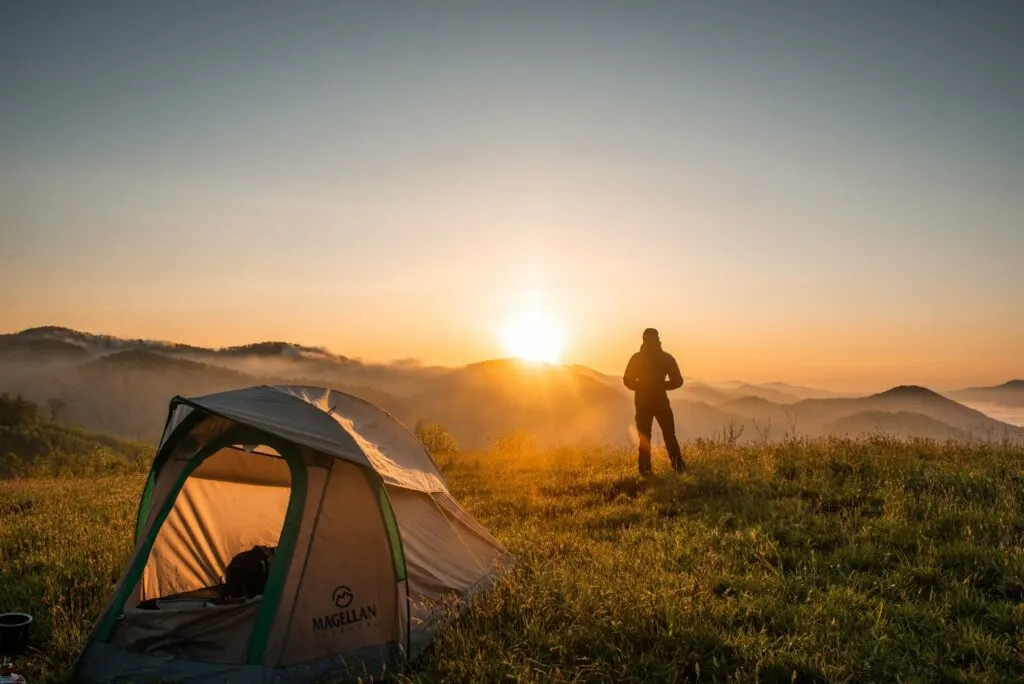 When considering this question, it's best to think about the situation from your cat's perspective.
Traveling with a pet is an incredible experience. We've had the pleasure of seeing the world with our adventure cat Yoda. The thought of taking your kitty camping is probably super exciting and you can't wait to get out on those trails!
But we want the experience to be as enjoyable and relaxing for them as it is for us, right?
So while some cats might be just fine with rolling up to a campsite and adjust quickly… it never hurts to put in the groundwork to reduce the chance of any anxiety or stress. Especially if they are likely to feel afraid or scared. Plus, they will then be less likely to spook and possibly bolt, which no owner wants.
With that in mind, here's a step-by-step guide for preparing your cat to go camping. If your cat is already a tick for some of these — great! Feel free to skip ahead to where their threshold lies.
Preparing Your Cat for a Camping Trip
Leash training — Having your cat comfortable with a leash and harness is crucial for any feline adventures. Not only will it keep them safe and sound, but also lets them explore and engage their curiosity. You can read our full guide to Leash Training Your Cat here.
Up your walks — Once you have mastered the basics, and your cat is happy with walking around your neighborhood, try taking them somewhere busier, like a local park or cafe. While you might be camping off grid, if you would rather have the amenities of a campsite, it's good to acclimate your kitty to the sights and sounds they might experience there – like dogs, small children and cars.
Practice car journeys — To get to your perfect spot, it's likely you'll be traveling by car. So it's a good idea to make sure your kitty is comfortable with traveling on four wheels before attempting a long road trip to somewhere remote.
Also Read: How to Travel with a Cat in the Car in 10 Easy Steps
Introduce a tent — Pitch a tent in your living room, or out in the backyard, and let your kitty investigate for a couple days. Hide some treats inside so they see it as a fun place, and maybe even have a sleepover in there with the door flaps open, and move towards having the flaps shut.
Have a practice run — If there's a campsite nearby, it's a great idea to have a little practice run with your cat. Set up the tent, let them explore, sniff and smell. Hang out together there for a little, maybe even play some games with them, then head home without spending the night. This will help them build a positive association with camping.
Can You Bring an Indoor Cat Camping?
Yes, but personally I'd want them to have completed all the above steps first, to keep them happy, secure and safe. So they'll need to be comfortable with outside trips & car rides before you suddenly throw the big wide world at them!
With the above steps under your belt, you can be confident that your cat is going to have an incredible time camping with you!
How to Take a Cat Camping
Now the prep work is done, what about the actual practicalities of camping with cats?
First off, you're going to need some cat camping gear!
Having the right cat camping equipment will make your trip as stress free and seamless as possible, allowing you and your kitty to enjoy the great outdoors without any "oops!" moments.
Essential Cat Camping Supplies
Here's a guide to the essential cat camping supplies to consider adding to your adventure kit:
Harness & Leash
Of course, you'll need a robust, comfortable, and safe harness and lead to keep your cat comfy & safe out in the wild with you. Many adventure cats swear by using the Puppia harness – a comfy mesh harness for small dogs which offers excellent coverage and breathability. A super secure option is a jacket harness, like the Kitty Holster, which is soft and comfortable but also super secure. We use the Supakit cat harness for Yoda.
Stake (Pet Tether)
To allow you to set up your tent and keep your kitty safe, you'll need a way to secure them. A stake in the ground attached to their leash is a great way to allow them explore, while keeping them in your eye line. This Sureswivel option allows your cat to move around freely, without getting tangled or caught.
GPS Collar
Being prepared is always smart, and should your cat get loose while camping a GPS cat collar could help you have peace of mind that you'll be reunited.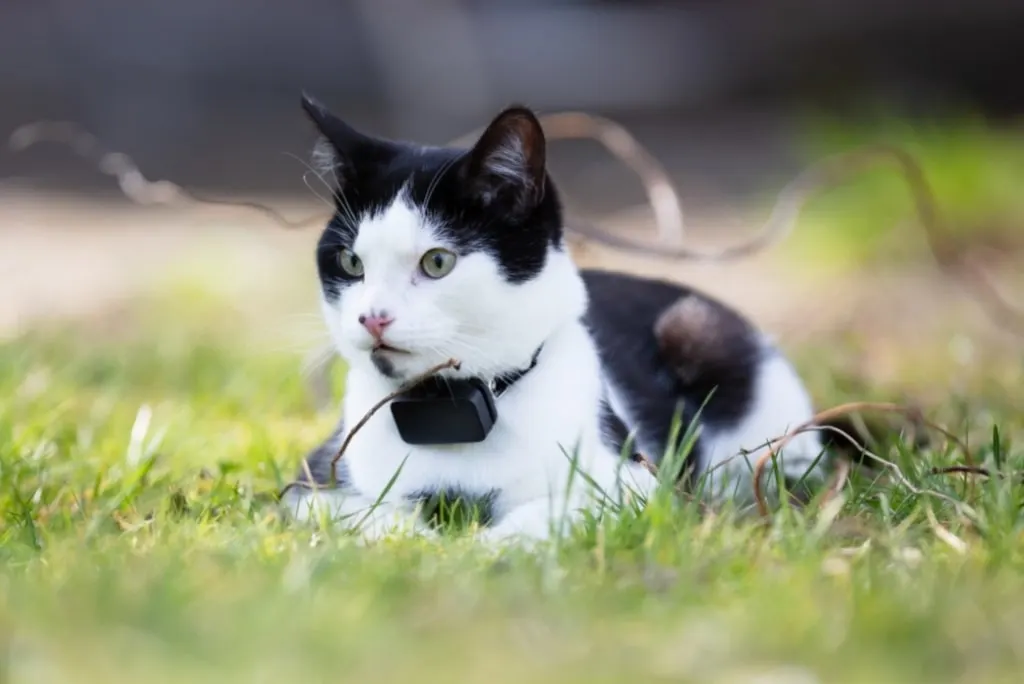 LED Lights
To ensure your cat is safe at night if your hiking falls into the evening, or around the campsite after dark, some LED lights are a great investment. This Light Up Collar has some great reviews from cat owners.
Poop Bags, Litter Box & Litter
Leave No Trace applies to kitty waste too! So bring some compostable poop bags, an eco-frieindly litter tray & a small bag of eco-cat litter with you.
Tick Tool
In case you find any unwanted critters have hitchhiked a ride with your fur friend, this Tick Remover should do the trick. We also use the Seresto collar to ward off any fleas, ticks, and other nasty beasts.
Travel Bowls
These super cool Collapsible Silicone Bowls are my go-to every time. They can be zipped up into a compact CD-sized carry case – small enough to easily fit in your cat backpack. Hooray!
Food & Water
It's a good idea to keep snacks and water on you so your kitty is always kept hydrated and comfortable. Bring their usual food along in a sealable plastic container, or invest in this awesome 2 in 1 Water & Food Carrier.
Cat Travel Bed
Unless you are happy with them curling up in yours, a safe and cozy option for your kitty is a travel bed, like this self-warming, waterproof camping cat bed, which rolls up for easy transportation.
First Aid Kit
Ideal for camping, this Cat First Aid Kit includes all the essentials in case your cat needs bandaging up. You never know if your kitty will get a wound that needs cleaning!
Cleaning Supplies
You'll probably want to bring some Burts Bees cat shampoo, hand sanitizer, and a microfibre towel for those messier hikes or wetter days.
Top Tips for Camping With Cats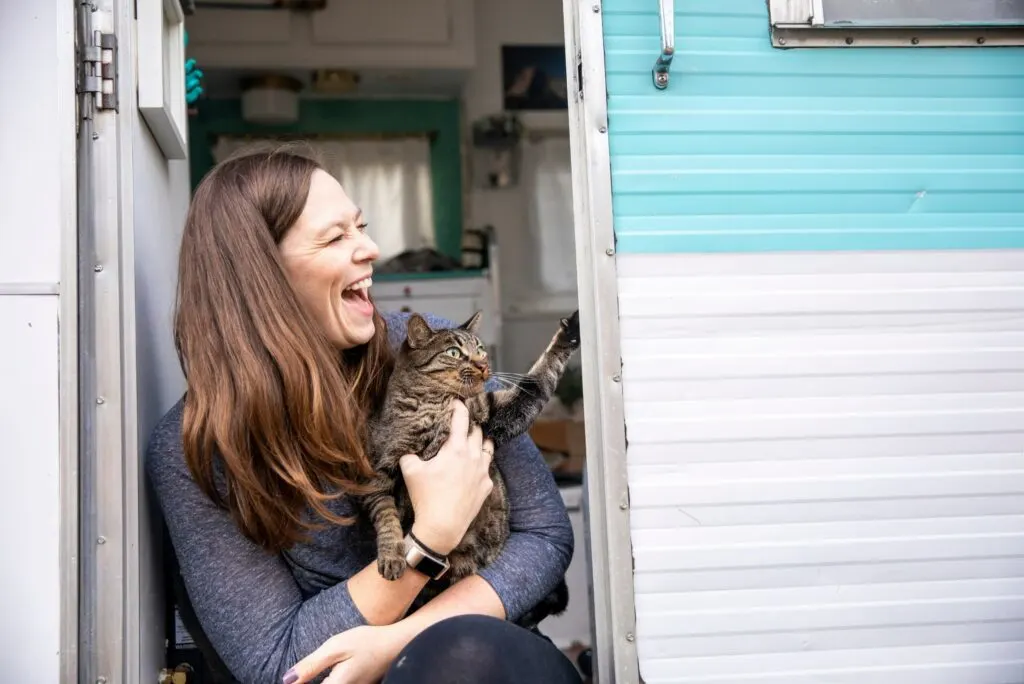 Once you have all the essentials packed and ready to go, it's time to make sure your kitty has a safe and happy experience once you reach your final destination. Here's our top camping with cats tips:
1. Check Your Campsite
If staying at a site, make sure the destination is pet-friendly first. It might be good to do this for your trail routes too.
2. Assess Weather
If it's going to be extremely hot or super cold, it might be worth giving your trip a miss. However, if you simply need to invest in a cat jacket to help your feline feel more at ease in colder weather, that can help too!
3. Set Up a Safe Area
When you first arrive, you'll want to place their stake and tie out in a place that's not too chaotic, to let them adjust. If you can pick a quieter part of the site to start with, you'll allow them time to acclimatize.
4. Stay Aware
If you are in a remote area, be sure to keep an eye on your kitty and never leave them unsupervised (even at a site). Larger predators have been known to snatch cats on hikes and trails, so be sure to keep your cat within eyesight at all times.
5. Familiarity
Bring your fluffy friends favorite treats, their usual blanket and much loved toy. This can help them feel at ease, calm their nerves and help them settle in for a night under the stars.
6. Sleeping in a Tent With a Cat
To avoid any unwanted tent attacks, we recommend going through the above preparation steps to have your cat used to a tent. This means they will be less likely to attempt a nighttime escape. Remember that zippers might look exciting, so tuck or tape them over if you can. You can even use this pop-up cat tent enclosure to keep them extra safe from predators and walking all over your face inside your tent.
Travel Litter Box
Some choose to have the litter box within the tent to prevent any midnight accidents. This might mean a slightly unpleasant smell in the mornings. If you know your cat can usually hold it overnight, you can keep the litter box outside (perhaps under a waterproof sheet) overnight.
Have Fun!
As much as safety is a high priority when adventuring, be sure to enjoy every moment of this amazing quality time with your fur friend! You both deserve it 🙂
Bonus – Eco Friendly Camping Trips
As we travel, we are always trying to think of ways to reduce our impact as we go. So we thought we'd share some bonus sustainable camping tips for all you adventure buddies out there!
Buy used gear — Feel free to use the above suggestions as a guide for what to look for in used gear. There's plenty of great options out there that are good as new!
Unplug — Camping is the perfect way to unplug and leave the electronics at home. You could even try using a solar lantern to light your way at night.
Explore your backyard — Sometimes you don't have to go miles away to find breathtaking beauty. Join local camping groups on Facebook, or ask your local adventure store for local scenic spots.
Leave No Trace!!! 🐾
The Round Up: Camping With Cats
While you are out enjoying your camping trip, you could even add in a few other outdoor activities too! Whether it's hiking trails, canoeing a river, curling up together in a hammock with a great book, or a scenic bike ride with your cat.
Cats can definitely enhance your outdoor experience, which is why we started this blog. Because we wanted to share just how much traveling with Yoda made us appreciate the world around us even more 🙂
So enjoy every minute of camping with your fur friend – and let us know in the comments how it goes!
Pin this guide to camping with a cat for later!