As avid cat van lifers and outdoor explorers, we are always on the hunt for the next best cat harness so Yoda can join along on the adventures. A harness that's safe but easy to slip on, durable but lightweight, and stylish but comfy.
That's why we're stoked to partner with Supakit to review their blue vegan cork Supakit Harness for cats like Yoda who love a good stroll in the great outdoors!
It's not always easy to find a cat harness that ticks all the boxes at once. But we think we may have found the closest thing to satisfy our demands.
Read more below to read our honest review of the Supakit Cat Harness! In it, we detail what we (aka – Yoda) loved about the harness, its specs, and what could possibly be improved. 🐾
Our Complete Supakit Cat Harness Review
Who Is Supakit?
Supakit is a UK-based company specializing in luxury cat collars and harnesses. Their story began when cat owners Kevin and Leili lost their young cat, Lola, who escaped and went missing after her collar fell off.
The solution?
Well, after luckily finding Lola again, they decided to create a breakaway collar that Lola wouldn't actually mind wearing. Supakit launched officially in 2017 and they've since expanded to include harnesses in their repertoire. When demand increased, they turned to Spain to source their genuine leather and sustainable cork collars and harnesses.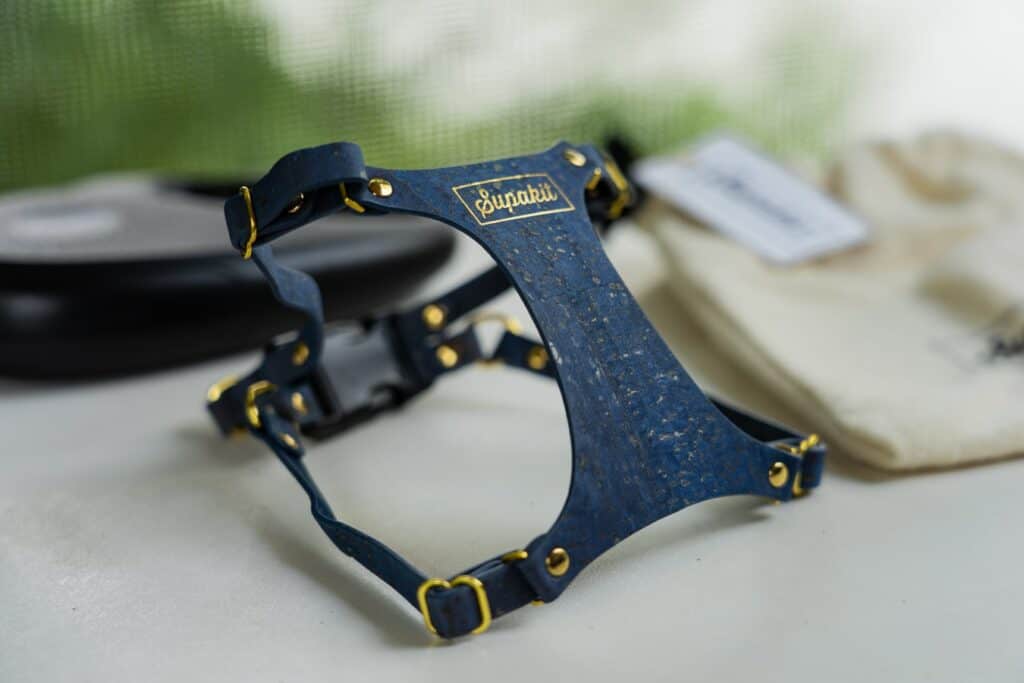 Now, Supakit provides textile collars (made from ocean-friendly SEAQUAL), and genuine + vegan leather collars and harnesses all over the world. And thanks to their Colombus, Ohio warehouse, you can receive yours within days!
Stay updated on socials for their upcoming launch of Supakit Academy – aimed at helping cat owners train their cats to walk with a harness and leash!
Supakit Harness Specs
We know how it feels to be unsure about buying a harness for your cat. Will it fit? Is it safe to use? How will my cat feel walking in it?
To give you an idea of what the Supakit Harness is like in real life, here's a breakdown of some of its features.
Style
Many cat harnesses on the market are made from plastics or synthetic materials, which doesn't sit well with us as we try to reduce plastic use as cat owners. So when we saw that Supakit offered a Vegan Cork cat harness, we instantly knew that was what we wanted for Yoda.
We decided to go with the Vegan Cork Deep Blue color (to compliment his beautiful gray fluff) and we are anything but disappointed in how the style looks and feels.
It suits Yoda so well! What do you think?
Fit / Size
As for the size, you'll need to first measure your cat! Here is a handy sizing tutorial for reference:
Once you have your measurements, match them with the correct size.
Yoda is a fairly average-sized cat – with a bit of extra floof – so we went for a size Medium.
The body of the harness, or the shape, was a bit smaller than expected (it fits in the palm of my hand), but with the four adjustable clips, we were able to make it perfect for Yoda.
That said, you may want to consider sizing up – especially if your kitty measures in between two sizes or is particularly fluffy.
One of our favorite aspects about the Supakit Harness is that it fits so much better on Yoda than his previous harness, which was larger and made of a thicker meshy material.
Yoda used to kind of "crouch" when walking with his old harness, because it was bigger – and therefore more noticeable for him.
With the new Supakit Harness, his movements are much freer than before. He stands up more properly now, too. That made us happy, as he is an active explorer!
Adjustability
The harness has four straps, each fully adjustable with a little golden slider. To extend the straps, you gently pull away.
When you adjust one side, be sure to adjust the other so it matches and ensures maximum comfort.
Ease of Use
Yoda loves going in his harness, so we never have difficulty putting it on. But even if you were to have a fussy kitty, the Supakit Harness slips on with ease.
Our method of putting on a cat harness successfully:
Unbuckle and open the straps wide on the ground in front of your cat
Place your cats paws and front legs inside the holes
In one movement, lift up the harness and clasp the buckle together
Ensure proper fit by verifying its position on your cat. You should be able to insert a finger in between the harness and your cat's chest.
Make sure it's on snug, but not too tight to restrict their movement! They should be able to reach up and scratch tree trunks with ease and lay down in the grass easily.
Durability
Despite being thin and lightweight, the Supakit Harness made from cork feels super durable. It's not rigid but it's not going to rip easily, either.
Yoda's only been using his new harness for a couple of weeks now, so we're curious to see how it will stand the test of time.
Details
Buckle / Clasp: The buckle is a heavy-duty plastic clasp that even a dog wouldn't get out of. It has some resistance when buckling together and snaps together securely. Two gold metal rings come together over top to hook the leash.
Aesthetic: The vegan cork is really what makes this particular Supakit Harness stand out from the crowd. It holds its shape yet is bendy and flexible to conform and fit snuggly around your cat's chest.
Weight: Yoda's never had such a lightweight harness! Thanks to the cork and general thin style, this harness is barely noticeable when placed in your hand. It's definitely what makes this harness so unique compared to others on the market.
How Does the Supakit Cat Harness Compare?
Speaking of – how does Supakit compare in terms of the competition out there?
To answer that, here's what we look for in a cat brand or product:
| | | |
| --- | --- | --- |
| | Supakit | Generic Brands |
| ECO-FRIENDLY OPTIONS | ✅ | X |
| DOES GOOD / GIVES BACK | ✅ | X |
| SPECIALLY DESIGNED | ✅ | X |
Supakit checks all of the boxes!
I will always prefer to buy with a trusted brand (even if it costs more) to ensure that we have a product for Yoda that:
Is gentle on the environment
Gives back to the cat community (Supakit donates meals to their partner sanctuary, Blind Cat Rescue)
Is designed with adventure cats like Yoda in mind
If we can equip Yoda with gear that does all three – then we're pretty happy cat parents.
Supakit Harness Customer Reviews
Something I recommend you do before purchasing anything for your cat is to check other reviews.
Not only can you find some golden bits of information in fellow customer reviews, but you can get a better idea of the product itself, what to expect and what to be wary of. Basically, it's a great way to get an idea of both the pros and cons before investing!
Here are a couple of reviews from Supakit Harness users. Check out Supakit's product pages for more.
"Cleo is so comfortable and safe in her harness. She walks, climbs, jumps and even sleeps wearing it! She is our camping kitty and we know she is safely tethered when we are on adventures. The color is a nice contrast and I was able to write her name and our phone number on the medium. It's a great product!" – Melissa F.
⭐️⭐️⭐️⭐️⭐️ Vegan Cat Harness
"This harness is amazing! Lovely soft leather, nice colour and it's adjustable. My boy love's it and is very comfortable wearing it. Will be ordering again. Many Thanks 😃" – Rada S.
⭐️⭐️⭐️⭐️⭐️ Leather Cat Harness
More About Supakit's Products
While we opted for the vegan cork harness, Supakit offers a lot more choices to gift your kitty.
Supakit also makes finely crafted genuine leather harnesses and breakaway collars made by Spanish artisans, in case you prefer that style. If not, then check out their eco-friendly textile collars with a jingly bell.
They even have a kitten collar line for those curious babies who are typically too small to trigger the breakaway mechanism in adult cat collars. (They're so cute as well!)
Lastly, pair your harness with a leash (because you'll need one of those!), with one of Supakit's equally adorable rope leashes to match your cat's harness color.
Or, if you want to give your cat extra room to roam, get the 16-foot retractable leash for cats which is what we use to explore with Yoda. (Note: It's a bit too big for traveling but great for adventures at home.)
Final Thoughts
We have full confidence that Yoda will thrive outdoors in his new Supakit Harness. He is a natural-born outdoor adventurer already, but this just gives us that extra boost of confidence that he can explore safely and comfortably.
The only thing that's missing now is a matching rope leash to go with it so we can be #Instagram ready at any moment.
If you are hesitating about investing in your first harness – or third – then check out Supakit! Not only do they have awesome specially-designed collars, leashes and harnesses, but they also have 'won-furr-ful' customer service in case you need an extra helping paw. 🐾
Do you have an adventurous cat breed? Would they love to explore the outdoors with you? Let us know your questions down below!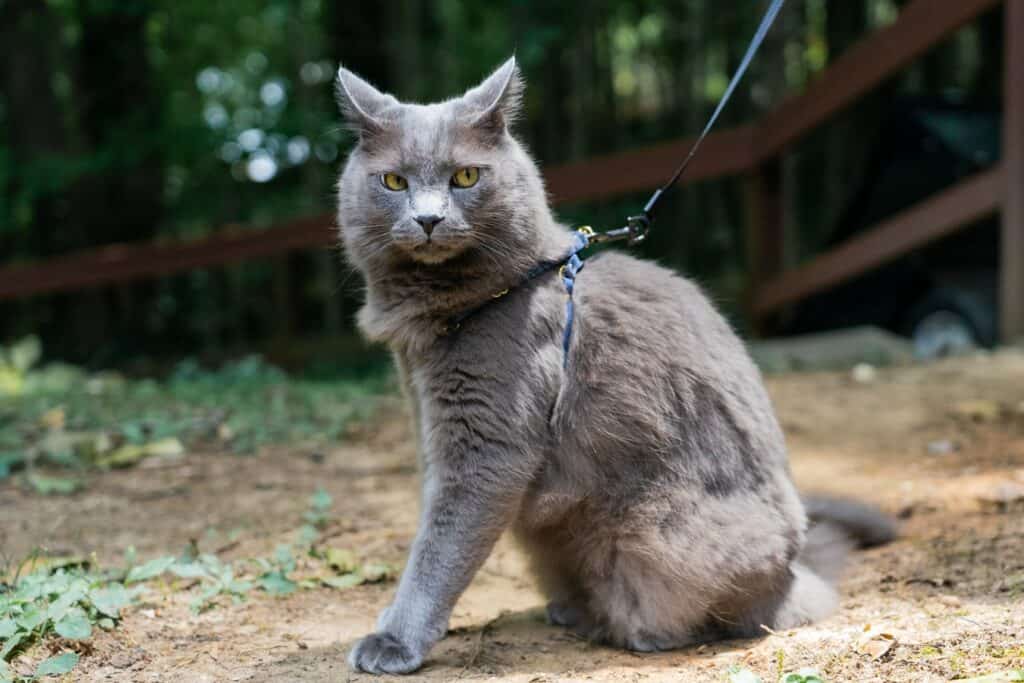 PIN THIS SUPAKIT HARNESS REVIEW!
Disclaimer: This article was kindly sponsored by Supakit. Please note that all opinions and text expressed within this article are entirely our own. We are happy to partner with brands we love and trust, and that we believe you'll love too. If you have any questions, feel free to reach out.