Have you ever wondered where your outdoor kitty goes during their nighttime adventures? Or perhaps you simply want the peace of mind of knowing that if you have an escapee, you'll be able to track them down quickly and safely. Then you'll love the idea of a cat GPS tracking device! And in this blog, we round up the best GPS cat collars on the market.
These nifty new inventions are designed to allow us to follow our furry adventurers' moves, giving us visibility of where they are at any given moment. This can come in handy in all kinds of situations and experiences you might undergo as a pet parent.
So we've conducted a tech roundup: listing the features and benefits of the best GPS cat collars and trackers currently available, to help you decide which one might be right for you and your feline friend.
In this article we will cover:
(Jump ahead to our cat GPS collar reviews)
But first, let's get started by understanding a little bit more about what these trackers do, and what options you have to choose from.
What Is a Cat GPS Tracker?
We safeguard our cats from being separated from us with microchips & ID collars, but now many owners are choosing to boost this safety by using GPS.
GPS stands for Global Positioning System, which we use all the time in daily life. Whether it's navigating our way around in the car or tracking our latest cat toy delivery!
Using the same technology, we can now see if our kitty is nearby, in the neighbors' back yard or roaming far away.
How Do GPS Cat Collars Work? How to Track Your Cat!
The company you purchase your tracker from, as you can see from the options below, will usually have a smartphone app that connects with your cat's device. This can allow you to see their location from your phone.
Some even offer a "safe zone" feature, which will alert you if your cat has left their usual area, or is leaving your backyard, for example.
It's worth knowing that with most GPS cat collar trackers, there is a one off payment for the equipment, then you often have to pay for a subscription to continue receiving your kitty's information.
It's also worth noting that you'll need a phone or software that's compatible with the company's software!
Can You Get a GPS Tracker Under the Skin for Cats?
At the moment, GPS cat trackers with no collar don't exist.
This is because GPS chip implant technology is still in its infancy, so not ready to be tested on our furry friends. This means that at the moment, our only option for how to track our cat is through a collar attachment.
Are There Alternatives to GPS Cat Trackers?
Yes!
Radio frequency cat trackers use a radio transmitter that attaches to your cat's collar, and a receiver that you carry. This is a little more clunky, as you have an extra handheld device rather than just using your smartphone, and they are likely to be much heavier than a GPS device for your cat to carry too.
But they can be more reliable than GPS trackers, as a radio frequency tracker will be able to pinpoint your cat's location down to a few centimeters.
That's why we've included one radio frequency tracker we do like in our picks below.
Bluetooth cat trackers are another alternative. These are generally much cheaper, more lightweight, and have a much longer battery life.
However it's worth noting that Bluetooth trackers are the weakest option available, as they can usually track no further than around 0.05 miles!
Bluetooth trackers could help you find your cat if you have a large house with lots of hiding places, but will not be useful for cats that are lost outside which is why we haven't included them here.
Why Is Kitty GPS Tracking Useful?
Being able to know where your kitty is at any given moment can be both a luxury and a potentially life saving piece of tech.
Situations where you might wish for a tracker include:
Day to day – To know if your cat is nearby, or is roaming happily, or if they seem to be stuck somewhere.
Moving home – To check if your cat is adjusting to a new area after a move, or if they are trying to navigate back to their old home.
Hiking – If you're on an outdoor adventure with your cat, there's a small chance they could slip their harness and escape.
On top of that, pet theft has seen a sharp rise over the last few years, with some statistics suggesting around a 40% increase.
So it's no surprise that GPS trackers have seen a rise in demand, as we owners want every option possible to keep our cats safe and secure.
But are tracking collars for cats the answer? There's one way to find out.
How Reliable Are GPS Cat Trackers?
Theoretically, GPS is worldwide. But these trackers will obviously work best in areas with good cell coverage.
While this will mean you can easily track your cat in populated areas, GPS trackers may not be so useful if your kitty is lost in a more remote area, or a foreign country with different networks.
Are Cat GPS Collars Safe?
Yes, if used correctly. Some things to consider before purchasing include:
Weight – When buying, check the device's weight. Some might be simply too heavy for your cat's breed or build.
Charging – Many chargers might require daily charging, so this will need to become a part of your routine.
Comfort – Be sure your kitty is comfortable wearing a collar, and also comfortable with the device before letting them explore. Perhaps observe them for a few hours around the home with their new accessory to be sure they are happy.
Safety – Ensure that the device cannot cause your cat to get stuck or choke while they are roaming. This usually means ensuring that you have a breakaway collar.
Possible loss – A safety element also means there's a chance your cat would lose the device! Which means you might be stuck with the bill for a year long subscription, without the actual collar. So it's probably good to be sure a GPS collar is something you really need.
Reviews – It's always best to read reviews before purchasing, especially those that are written by cat owners as opposed to dog owners.
Reviews – Cat GPS Collars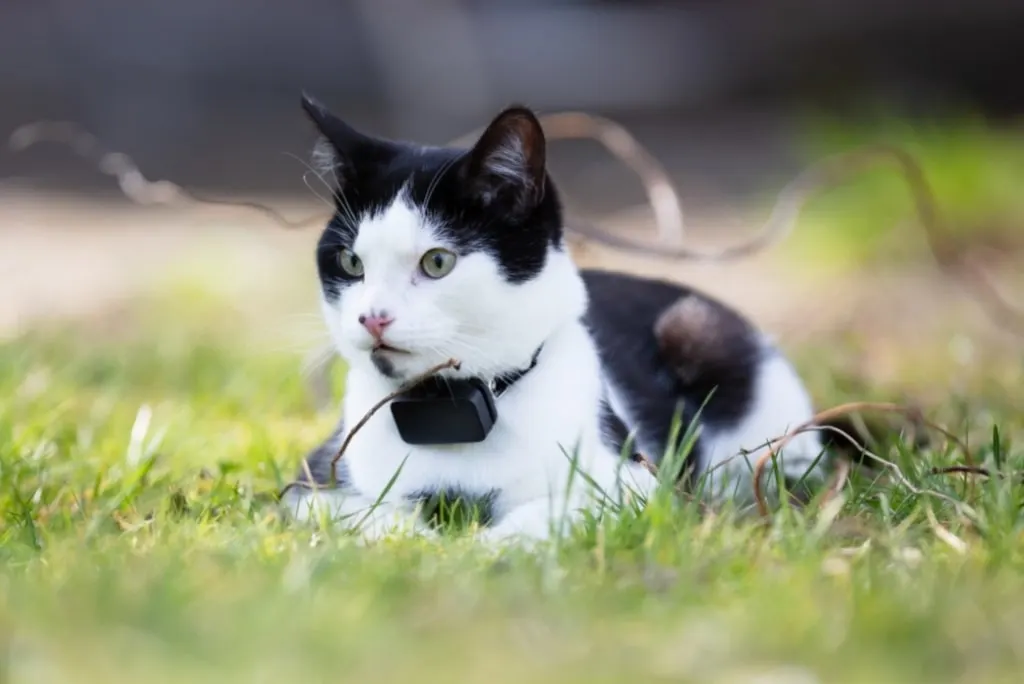 Positives:
This tracker is nicely lightweight, at less than an ounce, which means it's comfortable for smaller and larger cats alike
It uses a 4 way tracking system – cellular, GPS, WiFi, and Bluetooth, to keep excellent tabs on your kitty's roaming
It has an inbuilt 'alert' system within the smartphone app, which you can set to notify you if your cat leaves your trusted area
Our favorite feature is that Jiobit works in over 140 countries! So you can travel with your adventure kitty and still have peace of mind
Tiny, lightweight, durable and water-resistant – it ticks pretty much all the boxes
Negatives:
At the $140 mark (+ subscription fees), it certainly isn't a budget option
Some reviews have highlighted that a far wandering cat will both wear down the battery and reduce the location abilities, so this probably isn't for those cats who really range out
Positives:
Equipped with a SIM card, this GPS tracker uses Verizon's cell network, with largely positive reviews for coverage
The app allows you to receive notifications for low battery and for your pet leaving any "geofences" you set up
Reviews suggest the battery life is reliable and needs charging infrequently
$90 (plus monthly costs) is the most affordable option, but still a quality piece of technology
Negatives:
At 2.4 ounces it may be too heavy for some cats
Some users find the app has a tendency to crash
Worth noting that if your area isn't well served by Verizon you might struggle for accuracy
Positives:
Not only is this a GPS tracker, but it also monitors activity levels, calories, distance & behaviors like licking, scratching, and sleeping
Using AT&T nationwide network and Google maps, this collar seems to reliably track a pet's whereabouts, with 15 second updates
The app allows for notifications if your pet's location leaves a designated safe area
Built in night light functions can help keep your cat safe around roads
A Whistle subscription also gives you access to on-demand online veterinary help
Negatives:
Many reviews note the battery life isn't as good as advertised
Worth noting that if your area isn't well served by AT&T you might struggle for accuracy
Will be too large for smaller breeds
Positives:
This non GPS tracker is a little more "old school" as it uses radio frequency, but that means no monthly contracts and it works well for traveling with your pet
Around 45 days of battery life
Create up to 4 safety zones, with a "lost pet" feature to track your cat with real time updates
Save money on monthly subscription fees
A good option if you want to keep tabs on your cat's location fairly close to home
Negatives:
$300 upfront cost
Unlike GPS trackers with smartphone apps, this tracker works with a handset locator that acts like a personal radar system with a range of up to 2 miles. This means if your cat is outside that range you'll have to walk or drive around to find them
Only suitable for cats 5 lb and larger
Old school design means it's a little fiddly
What Is the Best GPS Cat Collar?
In our opinion, the best cat GPS tracker would be the Cube Real Time GPS Dog & Cat Tracker. It's an affordable and relatively lightweight option with generally positive reviews. Plus it seems the most useful, with in app support.
However, the best tracker is the one that works for you and your kitty's particular purr-sonality. If they are far ranging, you'll want to make sure you have a model with a reliable cell connection, whereas if you want to keep tabs over shorter distances the Marco polo would suit best. Have a cat that is on the smaller side? Then the Jiobit is by far your top option.
Worried about your cat outdoors? you could also think about transitioning them to an indoor lifestyle. Doing this could save them from the possibility of becoming lost, fighting with other animals, becoming injured in road traffic accidents and other worrying issues.
If you are interested in reading more, you can read our guide to indoor cats to determine if it could be an option for your cat.
And don't forget that GPS trackers aren't the only way to keep your cat active outdoors while still keeping them safe. Read our guides on ways to have secure adventures with your feline friends:
Do you have a GPS tracker? If so, would you recommend it? Let us know in the comments below 🙂