There's no escaping the fact that, deep down, our kitties are pretty wild creatures. They love to hunt, explore and climb, just like the big cats they're related to. And for some of our furry beasts, being inside just doesn't feel enough. That's where catios can come in!
"What is a catio?" we hear you cry! Well, lots of us humans love nothing more than a quiet place to soak up the scenery and get some fresh air. That's why so many of us add a patio area to our yard, or even just love sitting out on our porch right? Well, a catio is the same thing.

But why build a catio? What's the point? The answer to that is simple:
Cats venturing outside face many risks – catching diseases, injuring wildlife and experiencing injury to themselves from traffic and other predators.
Catios provide an enclosed, safe and fun way for your cat to act out their natural urges – it's a special & secure place for your feline friend to enjoy the great outdoors, but safely.
In this blog, we'll share the lowdown on some of the coolest catio designs going, including:
Budget-friendly DIY plan
Amazing catio construction companies
Materials, location & other important factors
catio ideas for your backyard
Window catio designs
catio plans for balconies
So you'll be sure to find something that suits you and your fluffy kitty, wherever it is you call home!
But first…
Picking a Catio Play Area for Your Cat
Do I Need a Catio?
"Providing cats with outdoor access in enclosures ensures we are good cat owners and good neighbors. It means being responsible for wildlife, responsible for community space and responsible for the safety of our cats."

Jennifer Hillman, The Humane Society
While every owner knows what's best for their own furry beast, keeping your cat indoors can have some major benefits for them, and for the environment too:
Health – an indoor cat is much less likely to suffer from a range of nasty diseases and parasites. Plus, they are less likely to become overweight from extra feeding by your generous neighbors, or eat anything that could upset their stomach.
Safety – sadly, around 10 million pets are lost in the United States every year, either from theft or straying from their home. Indoor cats also won't be at risk from car accidents, fights with other cats, anti-social behaviour or attacks from other wildlife.
Environment – a 2013 study estimated that free-ranging domestic cats kill between 1.3 and 4 billion birds a year. Let alone all the extra mice! Keeping your cat indoors helps local wildlife to stay strong and allow populations to rebalance.
Why Build a Catio?
Just because you're choosing to keep your cat inside, this doesn't mean they can't have an amazing quality of life.
We know how much they adore climbing, pouncing and exploring (Yoda's top 3 activities!) and providing a catio allows them to enjoy these natural behaviors in a safe way.
Plus, they can have a whole host of other possible benefits for your kitty too.
Benefits of a Catio
Protects your cat
Helps wildlife
Reduces vets bills
More outside time
Higher activity levels
Healthy weight management
Better mood and lower stress levels
Reduced behavioral issues
Increased harmony in your multi-pet household
Reduced indoor odors
Fresh air and sunbathing 🙂
Reduced neighborhood disputes over cat poop!
Reduced stray population
(You can also read our other top tips for Keeping an Indoor Cat Active here.)
No wonder outdoor cat enclosures of all kinds are now becoming super popular in the feline-lover community, huh?!
Now that you know what a catio is, we thought we'd share our favorite designs, ideas and inspiration – so we can help our cats enjoy a happy, healthy & earth-positive life! That's what we love here at Fluffy Kitty, after all 🙂
So are you ready to dive in?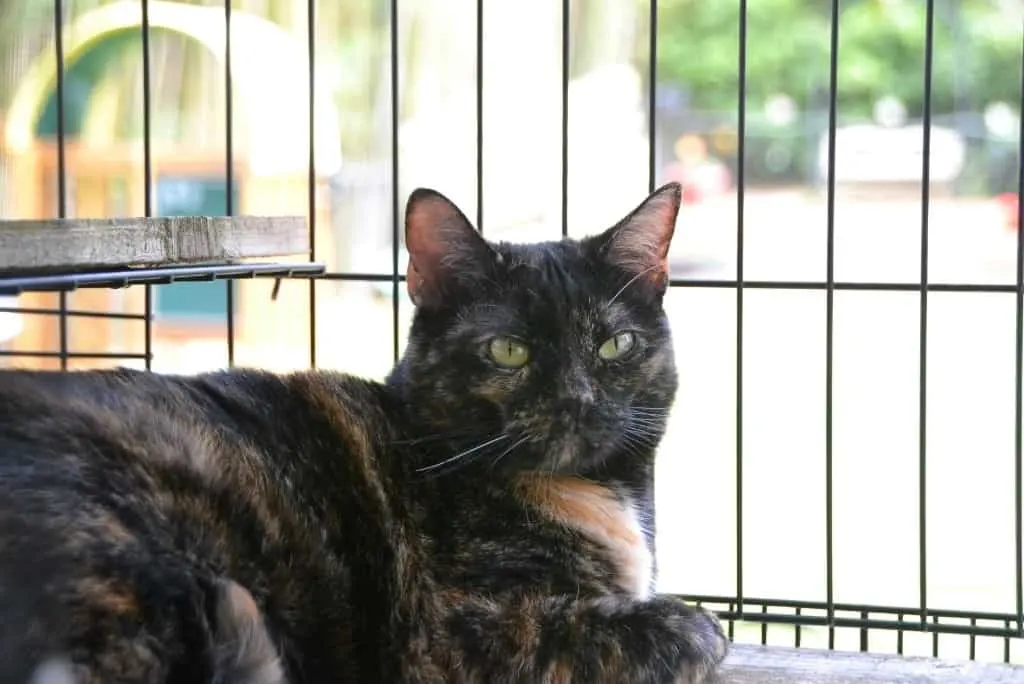 Best Catio Ideas for Cats
DIY vs Custom Build

If you want to save $$$ then a DIY option is the way to go. We'll share some simple designs below that just require basic materials and a few tools.
Or, if you want to construct something bespoke for your furry best friend, and save the time and hassle of building on your own, we've picked some cool catio company recommendations below.
Freestanding vs Attached

You can buy or build freestanding units, and either carry or leash walk your cat to them from the house, or attach them to your home via a tunnel or run.
Your other option is to attach the catio to your house, creating a multifunctional porch and cat enclosure.
You can also choose to attach a catio to your window or existing cat flap, so your cat can come and go freely.
Materials

The most common structures are made from a weather-resistant wood framing and some sturdy wire, such a galvanised wire mesh, to avoid escape attempts!
It's usually a good idea to avoid materials like chicken wire or plastic mesh – these won't stand the test of time and can be easily chewed through.
Shelter

During the colder months your kitty might need some extra shelter, so think about adding some hiding places and cosy cave areas.
It's also a great idea to add a sheltered litter tray, so you can keep odours outside and your house clean too!
Size

Catios can be as simple as a window box with a little room for lounging and watching the world go by, or a run with lots of levels and perches.
Consider how much you think your kitty will actually use the space, such as their energy levels and general mobility, before deciding on a size.
Building upwards is usually more important than the amount of space you have, as our kitties love nothing more than a good climb and a vantage spot!
Stimulation

As well as possibly adding some climbing ladders and shelving, think about any other ways to offer your kitty extra fun. We've listed some great accessories below!
Planning

While most catios will be fine, if you're planning an extravagant palace, or live near a public road or boundary, you may need to apply for planning permission to attach one to your home. Check with your local authority before you start your build, just in case!
With this in mind, here are our top 5 awesome cat outdoor play area ideas: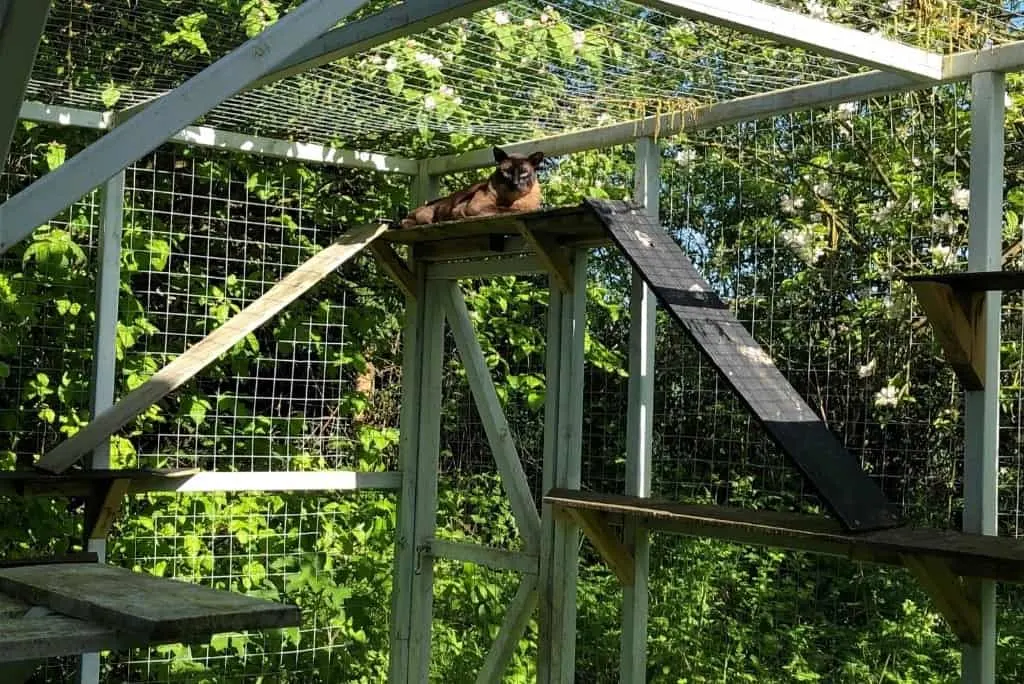 1. Catios for Backyards
Best DIY options
This video tutorial is a great base to start from, if you're unsure how to pull a design together. Plus they handily provide a full list of the supplies they use in this video too.
Feel free to get creative, maybe including any trees in your backyard, like this tutorial does. Experiment with the space you have.
Best Online Options
Pawhut Cat House – a large play house that is a great addition to a multi-cat household with a big backyard. There are 6 large platforms for lots of exploring and climbing (a big tick in our book!) It's also made around a solid wood frame with strong wire to keep your kitties safe and secure. The large door also offers easy access, especially if it's attached directly to your house.
Aivituvin Outdoor Cat House – this nifty design is on wheels, meaning you can move it easily between different locations. It also provides plenty of shelter in colder weather, with lots of options for connecting it to your windows too.
2. Catios for Balconies
Best DIY option
Why not try this amazing IKEA hack, using a simple bookcase and a few other tools to create an amazing catio on your balcony. Perfect for making the most of a small space.
Best Online Options
Homey Cat Playpen – this mini playpen is a great option for balconies, as it's got handles for easy movement if needed and a pull out tray for easy cleaning. Probably only best for smaller cats, as a maine coon might find themselves a bit stuck!
The Cat Tent – this is a great space saving option for smaller balconies, or if you need to be able to fold your playpen away after use. This tent design lets your cat see and smell the outside world safely, plus you could place some toys inside too for extra fun.
3. Catios for Windows
Best DIY Option
This tutorial shows how you can create an amazing terrace area for your cats directly from your window. This might be too big a job for the DIY newbies, but if you've got the skills it's a striking design!
Best Online Option
The Cat Solarium – this cool sunbathing spot for your kitty can be inserted into a window, so your city cat can safely enjoy the outdoors. It's got glowing reviews from some very happy furry customers!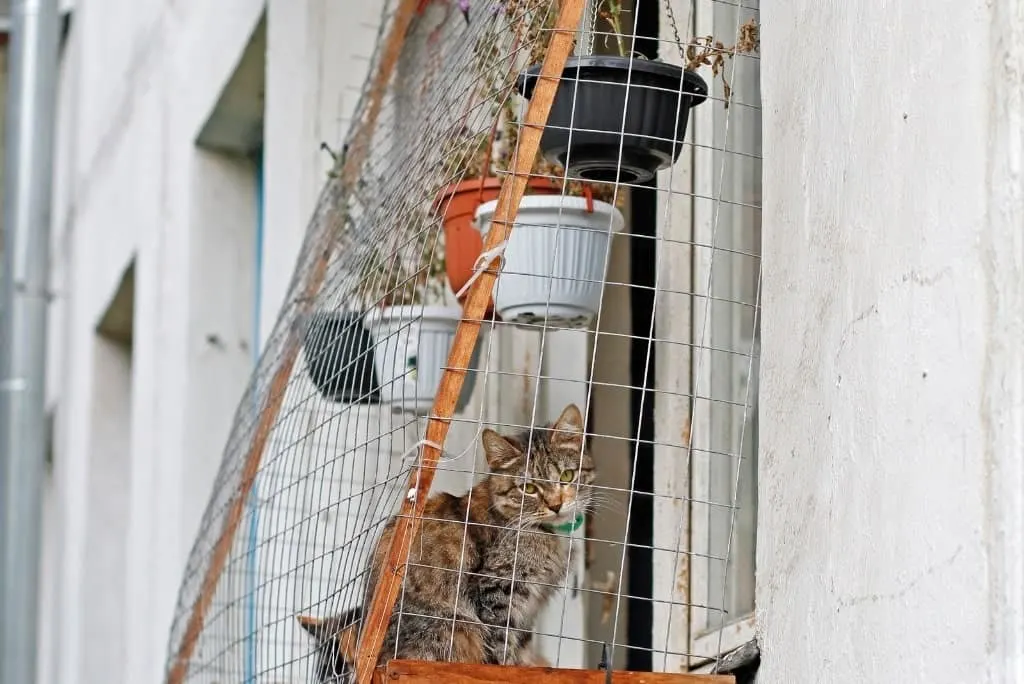 4. Custom Build Catios
CatioSpaces – with both DIY plans to guide you through a set cat-friendly design, and bespoke design and build services to complement your home and "suit a feline's fancy" – CatioSpaces is ideal. They've got glowing testimonials from happy owners and have some super cute videos of their furry customers too!
Cattopia – if you are serious about creating a 5 star enclosure for your kitty, then Cattopia is the company for you! They use weather graded lumber, offer a painting and staining service, as well as super safe materials. Plus, they work to eliminate cat homelessness, by donating to humane societies across the country with every build. Naaw!
5. Second Hand Catios
Want to be an eco-warrior and save some extra cash? Why not scour your local flea market, second-hand stalls or eBay for a second-hand bargain?
You could get to work converting an unwanted rabbit hutch or find an existing catio that needs a new home. Just be sure to thoroughly clean and air out your structure, and follow the materials guide above. This way you can be sure it's safe and comfy for your cat, without any lingering scents that might put them off!
Bonus – Catio Accessory Ideas
Why not personalize your catio with some extra items you know your kitty will adore? That'll help to keep them active and stimulated! Here are some accessory options we seriously heart emoji:
Cat Fountain – why not add a little zen to you and your kitty's space with a ceramic cat fountain. Beautiful natural materials and an eye-catching design, the 4 easy-flowing bodies of water, 3 mini waterfalls, and bubbling spring all provide a gorgeous trickling sound for you to relax to, whilst also enticing your cat to stay hydrated as they play.
Hammock – purrrfect for added catio comfort, these super cute handcrafted hammocks are made from washable and super durable fabric. They clip easily onto any enclosure too.
Wall Mounted Ladder – made from sustainable sisal rope and sturdy wood, you can secure this rope between ledges to create a climbing wall for your active cat. You'll have a real jungle gym going in your backyard or balcony!
Hanging Scratcher – this hangable scratcher can be a super fun addition to your outdoor area, crafted from sisal and jute for an eco-friendly & fun boost to your cat's play area.
Cat Grass – add a little greenery that's great for your kitty to explore and try. Made in the USA, this cat grass is 100% certified organic, non-GMO and gluten-free. Plus it's a source of those all-important vitamins, minerals, amino acids and enzymes too!
Are you ready to plan your dream catio? Or have you already got an outdoor enclosure for your cat? Let us know, we'd love to see! Maybe we can get some inspiration for our own for Yoda!
PIN THESE CATIO IDEAS WITH A FRIEND!