Tired of stepping on cat litter? Wondering how you can prevent your cat from tracking cat litter all-around your house? Well, you're not the only one. Cats are wonderful creatures, but they sure do have a hard time keeping the mess from spilling out over the cat litter box. Here's our guide on how to stop your cat from tracking litter everywhere.
Article last updated: [last-modified]
It is one of the first things I noticed when we adopted Yoda: Cats are extremely clean and independent. They have an instinct to find the litter box and do their business in there. I grew up with dogs and I know how time consuming it is to have to take them outside so they can relieve themselves. It was such a breeze to see our Yoda be so clever. 🙂
Cats just know the ways, and once they get it, they just keep using it! Scoop it out, refill and…. done. It's that simple! (for most cats).
However, whether you are a kitty first timer (like me) or a long-time cat owner (like Brittany), chances are you have faced the very same problem. Cats using litter boxes tend to involuntarily make a real mess around their box and sometimes end up leaving a trail of cat litter all over the house.
Indeed, most of the time cats leave litter tracks and you know it when you feel it stuck to the bottom of your feet! That's right, have you ever walked on your wooden floor and felt that crispy grain of litter under your foot?
We are here to help you find simple ways to stop this from happening. How to stop my cat from tracking litter everywhere, you ask? Here is the answer from the most simple to the most elaborate tricks.
In this article:
Litter mats for cats (simple, advanced, DIY)
Switching to a better cat litter
Litter box solutions to help prevent litter tracking
DIY anti-tracking litter boxes
Final Thoughts
Mats for Cats
The first solution might be obvious but it deserved to be stated and analyzed in this article. Why? Not all mats will keep litter from tracking everywhere. Also, depending on the kind of mat you use, your beast might want to use it to do his business instead of going into the box…
Beware my friends, and choose the right mat. We've picked 2 cat litter mats that keep litter tracking to a minimum.
Simple Litter Mat: Smiling Paws Cat Litter Mat
Use a high quality, durable mat that traps litter effectively. It's also important it stays in place when the beast scratches and digs inside the box! The cat litter mat should already have a bottom lining to help it stay in place.
All you need to do to rid yourself of the scattered cat litter is pick it up and shake it out in the trash. A litter mat reduces the amount of tracking in your home by double! Less litter on the floor means less daily sweeping and vacuuming.
High-Tech Litter Mat: Large Cat Litter Trapper
If you have a multi-cat household, or simply have a messy cat, you can upgrade to a larger cat litter mat.
Larger cat litter mats like this one offers a more advanced option that absolutely kills it! The mat is made of two components that make it extremely efficient.
When your cat walks on it, the litter falls through extra-large holes. It's super-efficient and convenient. Even if your cat steps out of the litter box and shakes the litter off their paws, this mat will be ready to catch any stray litter.
Already adopted by thousands of owners, we had to tell you about this wonder!
DIY Cat Litter Mat
On Practically functional, we discovered a very special (and cheaper) way to make your own mat to prevent your cat from spreading litter everywhere.
All you need is a few rubber garage tiles with giant holes. Stick that under the box and you are done! The litter gets trapped and you simply have to vacuum once in a while under the tiles. It's so easy we're kind of jealous that we did not think about it ourselves. 😉
Now as efficient as those mats can be, we do not think they are a perfect solution to your problems. Why? Cats simply do not know that those mats are designed to catch litter and even if they did, I doubt they could care less about making a mess.
It's not like they are going to stop and thoroughly rub their paws before running in the house. Some of the litter will stay trapped on the mat but some will keep on spreading in the rest of the house. And also, it's not very discrete!
Stop Tracking Altogether: Use Wood Pellet Litter
In addition to a litter trapping mat, one good and simple solution to stop your cat from tracking litter everywhere is to change the litter you are using. The reason is simple too: some litters track more than others. It's a question of composition and consistency.
We always recommend using a biodegradable cat litter as it is healthier for your cat (and better for the environment) and it prevents tracking. Like any product, it has its drawbacks (less easy to scoop), but it does what you are looking for: it does not track and it is safe for your beast and the planet.
If you're not sure where to start, check out our compilation of the top 10 eco-friendly cat litters.
Or, take a short cut and discover our recommendation for beginners here:
If you find Feline Pine cat litter to not be the right fit, keep on exploring! There are plenty of other non-tracking litter options out there.
We personally use generic recycled wood pellets wherever we can find them. It's the cheapest alternative too.
Litter Box Solutions That Prevents Litter Tracking
Are you ready? This last solution is with no doubt the best to prevent your kitty from tracking litter everywhere. It's beautiful, it hides the mess, it's easier to clean, and it stops the tracking!!!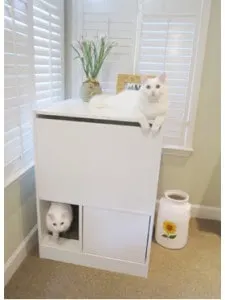 Let us present the Out of sight litter box! It's basically a cat litter box furniture but it has a magic trick to it. It is really one of a kind!
While traditional cat litter box furniture does a great job at hiding the litter box itself, they do not prevent litter tracking. The inventor of this box created a unique design: before your cat gets out of the box he will get rid of the litter stuck under its paws.
When your kitty hops out of the litter box and then jumps down upon exit, his paws will open naturally which will allow the litter to fall out and be trapped on a special mat.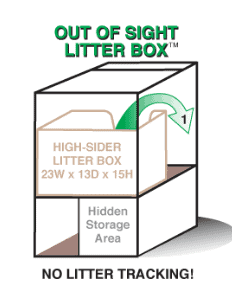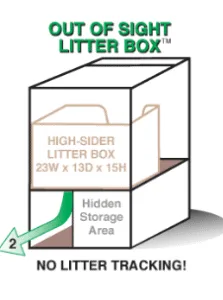 This box does a wonderful job, it is LITTER-ally (sorry could not resist) the best non-tracking litter device ever invented since the creation of cats. The only thing about it is that it comes at a price! But hey, you get what you pay for. Also, did we mention it's made in the U.S?
DIY 1: Plastic trash box with a hole
While its name may not be as sexy as the very special litter box we just showed you, this DIY is nonetheless very cool.
It's less attractive of course but it does the job like a charm and you can personalize it! It comes from our friends at Livingwellmom.com.
Erika used her creative talent to build a very cheap and effective product. Here it is:
DIY 2: Build a royal entrance
It might be a bit more difficult to try this one but for those handymen/women out there, here is a fun project to do.
How to Stop My Cat from Tracking Litter Everywhere: Final Thoughts
We hope this article was useful to you! Hopefully, you now have a cleaner house and we are more than happy to have contributed to this great achievement.
Don't forget to clean the litter box as regularly as possible (for your beast's well being).
Let us know if you have used any of our recommendations above (or others we did not mention)!
Do you have a great system to help prevent cats from tracking litter everywhere in your home? Please share it with us below! We would be happy to hear from you.
Like it? Pin this article!